This is what I look like. Display any project you need with ease.
Click on the image above to see an example of the timeline module in action. (Timeline is at the bottom of the page.)
Timeline Module
Unlimited Site License
An easy, self-contained method of showing the flow of a project with up to three thumbnail images at each step.
Great for construction histories where the photos are not as glamorous as the finished product ones. At this size and with these drop shadows they still look great.
This module lets you add as many step increments as you want in a repeater field, each with a title, dates, description and up to three images each.
We use this module to showcase projects under construction, or an event that has distinct stages, or even to explain a process that is not well understood.
You can see it in action here: effectivebuilding.com.au/project-timeline
*Compatible with the Divi Theme Page Builder and Elegant Themes Page Builder Plugin. Not editable with the "Visual Builder".
Installation Instructions
You always need the Module Extender For Divi plugin installed on your WordPress site for the module to work.
Upload the zip file to your Child Theme's modules folder. [Using FTP or File Manager, go to WP-Content > Themes > Divi-child > modules.] You will need to create a folder called "modules" the first time. The child theme can have a different name to these instructions, so long as it is your current child theme folder. Note: It is case sensitive, must be lower case "modules".
Unzip the file so the unzipped module folder is in /wp-content/themes/Divi-child/modules/
You can delete the zip file just to keep things tidy.
Be sure to refresh your Page Builder page.
That's it! The new module will be in the list when you click "Insert Module" in the Divi Page Builder.
Editing this module is familiar to anyone using Divi Page Builder.
It uses a repeater to create as many timeline items as you need: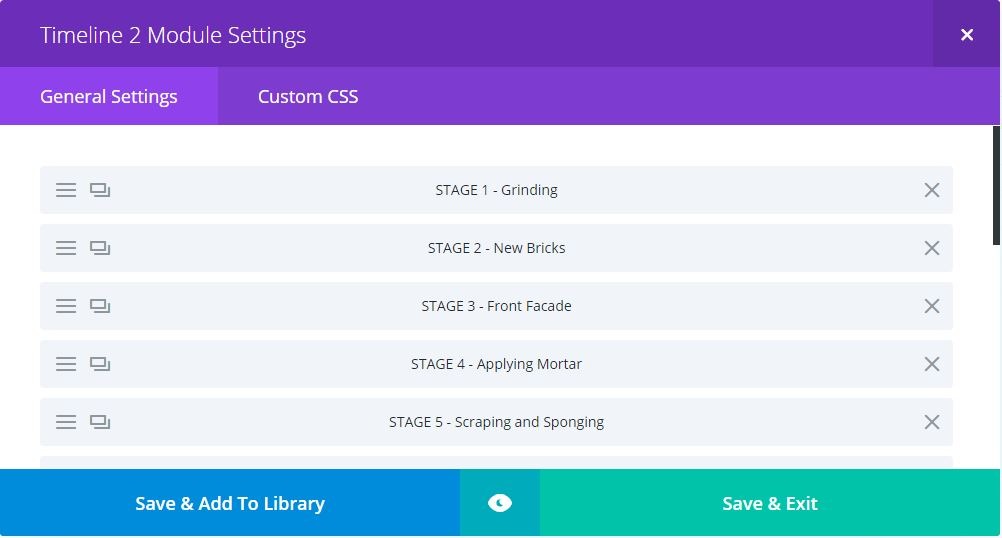 And then fill out each individual item (Title, Date, Description, Gallery). You can leave any of them blank and it will still work out the display. So if dates aren't relevant, just leave them out: