Video Pop-up Module
Third party videos in a lightbox pop-up player
Unlimited Site License | Regular Updates | Simple WP Plugin Install
*Compatible with the Divi Theme Page Builder and Elegant Themes Page Builder Plugin. Not editable with the "Visual Builder".
Sick of Videos slowing down your Website?
The Video popup Module improves the loading speed of your website as the video itself is not loaded with the page. Instead the video only loads in a lightbox when the user decides to play the video. Furthermore, as the video is embedded from your favourite video hosting service, it limits the brunt work required by your site.
Your Complete Customisable Video Player
Your video is no longer confined to a box on your page! With the Video popup module you have complete control over the custom image, play button and hover state of the play button.
Get rid of the bright red YouTube play button that clashes with your brand. Choose a video placeholder image of different dimensions to suit the page content it surrounds. Or be adventurous and move away from that traditional video look altogether. The sky's the limit!
Get Free Play Button Icons for your Video Pop-up Module!
Get a variety of free play button icons to use in conjunction with the Video Pop-up Module. We have sets available in PNG and SVG formats. There is also the option of a downloadable Sketch App file so that you can have full control to create and edit the existing button icons.
Video Pop-up Module Key Features
The run down on this handy little module:
Use your third party video host
Enter the URL of a Youtube or Vimeo or other hosted video service. This module will open it in a lightbox for viewing. Keeps it fast by embedding from their server.
Loads faster on mobile
By not loading the video on page load it makes page load speed even faster. Instead videos are only triggered when user selects to load it.
Customize background and button
This module gives you the added advantage of choosing the "Play Button" and styling it to match your website, and choosing the thumbnail image.
Editing could not be easier
Because we are Divi users, we design and base all our modules on our experience using Divi, ensuring they are intuitive to those familiar with the interface.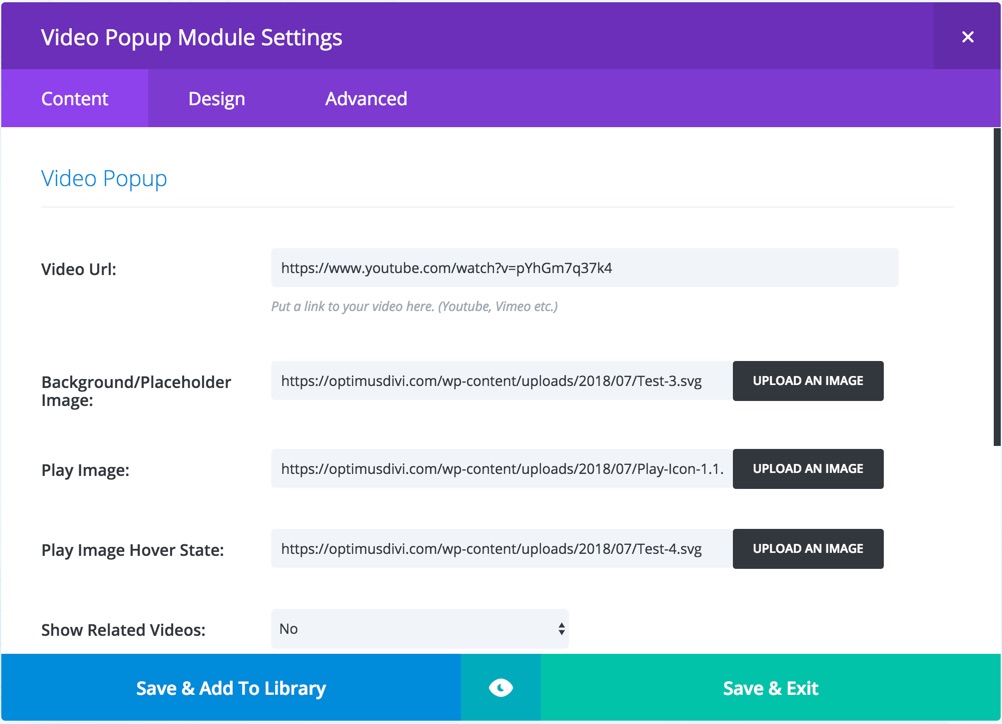 Step 1: Add Video URL and Images
Get your video URL and images ready. This allows you to customize the display of: the Video URL, Video Thumbnail image, Play Button Image, and Play Button on Hover Image.
Step 2: Edit Video Settings
You have the option to change a couple of video settings. Choose whether you'd like to show related videos once your video has ended. Also choose whether you want the video popup to autoclose on finish.
Live examples
You can see the video pop-up in action on several live websites:
In the header of http://effectivebuilding.com.au/, where a beautiful ad video showcases their new buildings in Parramatta, Sydney.
And on http://memorylakememorials.com.au/ for an explainer video about a new online memorial service.
Both sites had styling that did not match the YouTube Play Button, so this pop-up module was a great option.
Video Pop-up Module
Third party videos in a lightbox pop-up player
*Compatible with the Divi Theme Page Builder and Elegant Themes Page Builder Plugin. Not editable with the "Visual Builder".